What are .AI domains
.AI is the country-code extension for Anguilla, a small island in the Caribbean. However, it owes its fame to the fact that AI is an abbreviation for Artificial Intelligence. With the increase in popularity of the topic, especially with the introduction of ChatGPT, the demand for domains under .AI is also increasing rapidly.
Today, there are numerous companies and startups related to AI that present their services under an .ai website. Since global brands such as Microsoft or Facebook also use .ai, they are seen as pioneers and other companies automatically follow their lead.
Another piece of good news that benefits .ai domains is that Google now considers the .ai extension to be an international domain extension, instead of just a country code extension. This has a positive effect on search engine performance when search results under .ai are not mainly displayed to users with the corresponding location, but are rated the same as .COM, .NET, .TV and other international extensions.
The Top 10 most expensive .AI domains
.AI on the secondary domain market
As soon as a topic reaches social or economic relevance, like artificial intelligence, this is reflected by demand and price on the domain secondary market. The .AI extension was introduced as early as 1995. The first transfer of .AI domains at Sedo took place in 2012. It wasn't until 2017 that the registry relaxed some restrictions, making it easier for the public to register .AI domains.
.AI domain sales to increase even more
The chart shows that the purchase of .AI domains has continuously increased. Already at this point in time (June 2023), the number of sales is higher than those of 2021 + 2022 combined - with an upward trend.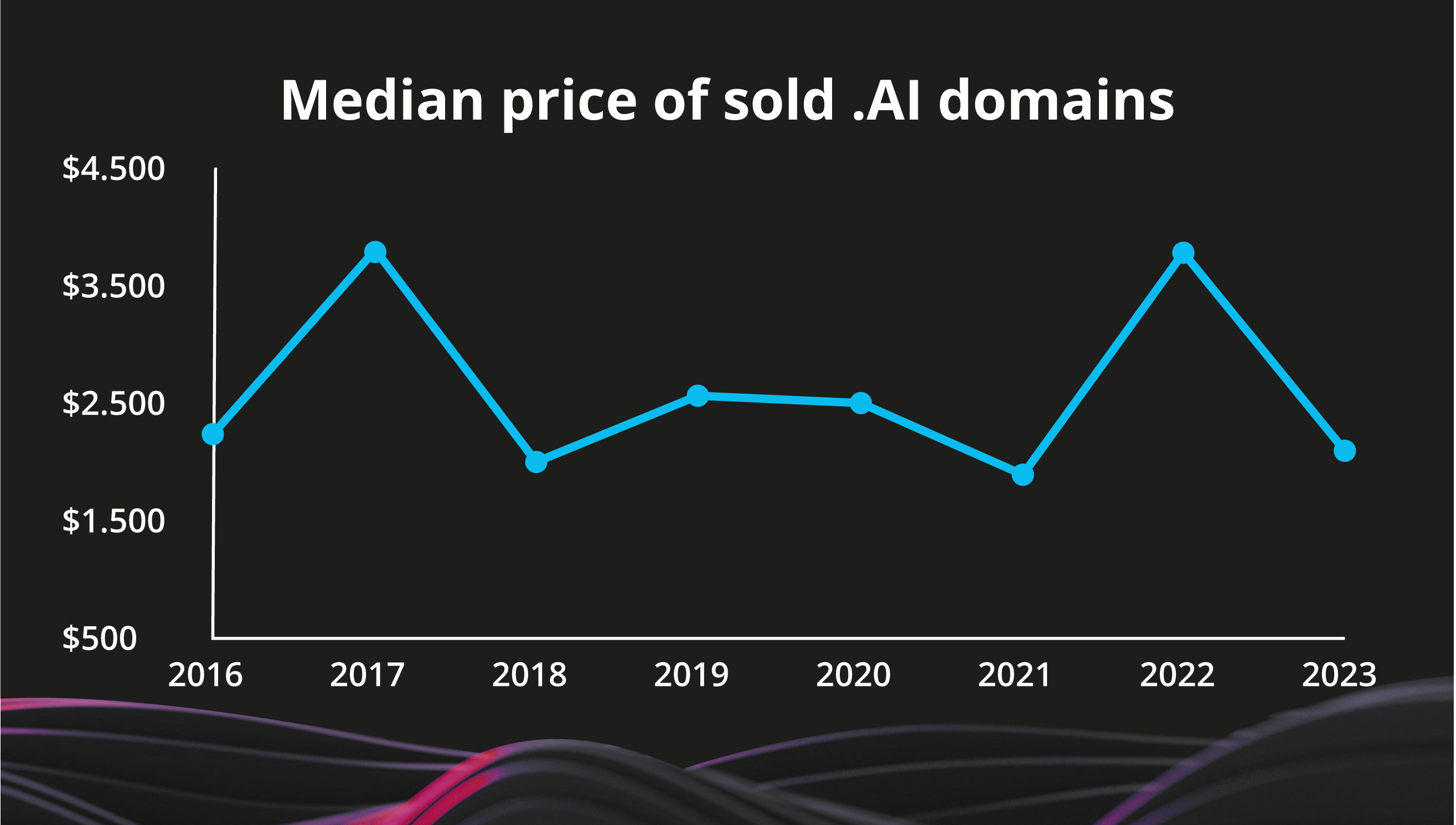 Price development of .AI domains in the secondary market
Currently, the average median value of an .AI domain on Sedo is $3,000, which is significantly higher than the median value of the king of top level domains .COM at about $300. The average price of .AI domains is about $6,000, that of .COM domains is about $3,000. The median value does not take into account any outliers up or down, so record sales don't affect the median value, unlike average prices.
Available .AI domains on the secondary market
The selection of available .AI domains consisting of a good descriptive keyword is currently still large. There are about 20,000 .AI domains listed for sale on Sedo.
Brands and companies using .AI
What to consider when buying .AI domains
Not all registrars offer hosting of .AI domains. Therefore, it is best to check before purchasing. A list of registrars known to us that support .AI can be found here. The registration fees of .AI domains are higher than registration fees for extensions like .COM or .NET: For a term of 24 months they can be around $100 per month. This should be taken into account when buying or selling .AI domains.
More about Sedo
News about the company and the domain market