Internet gambling and games betting enables responsible adults to wager money for entertainment and profit. There are many cultural differences around the globe, but one thing is certain: humans like to challenge the odds against them, and seek rewards. Regulating online gaming such as slot games, casinos, poker and gambling overall, is left to the respective governments in each country.
Typically, Western countries have less restrictive rules for their citizens when it comes to online gambling. More conservative governments tend to restrict online gambling more, perhaps by introducing higher taxes or even exerting full control over certain types of gambling activity. Gambling and online gaming companies spend a lot of money attracting players, and it's a multi-billion dollar industry. Gambling promotion on a variety of online channels in the form of Search Engine Advertising (SEA) can be extensive, or restricted, depending on the channel.
Google, the almighty search engine, restricts AdWords for certain types of gambling advertising. The rules are quite extensive, and Google breaks down everything in detail:
"We support responsible gambling advertising and abide by local gambling laws and industry standards, so we don't allow certain kinds of gambling-related advertising. Gambling-related ads are allowed if they comply with the policies below and the advertiser has received the proper Google Ads certification. Gambling ads must target approved countries, have a landing page that displays information about responsible gambling, and never target minors. Check local regulations for the areas you want to target."
As an example, "gambling" on its own appears to be a restricted keyword, while "play slots" is widely permitted, and several web sites appear to compete for it. These paid ads below appear to be organic Google search results for "play slots:"
In the example seen above, four major gambling businesses are paying top dollar for each click, and the budget can be upwards of thousands of dollars. Here's the cost, and expected results of the "play slots" keywords: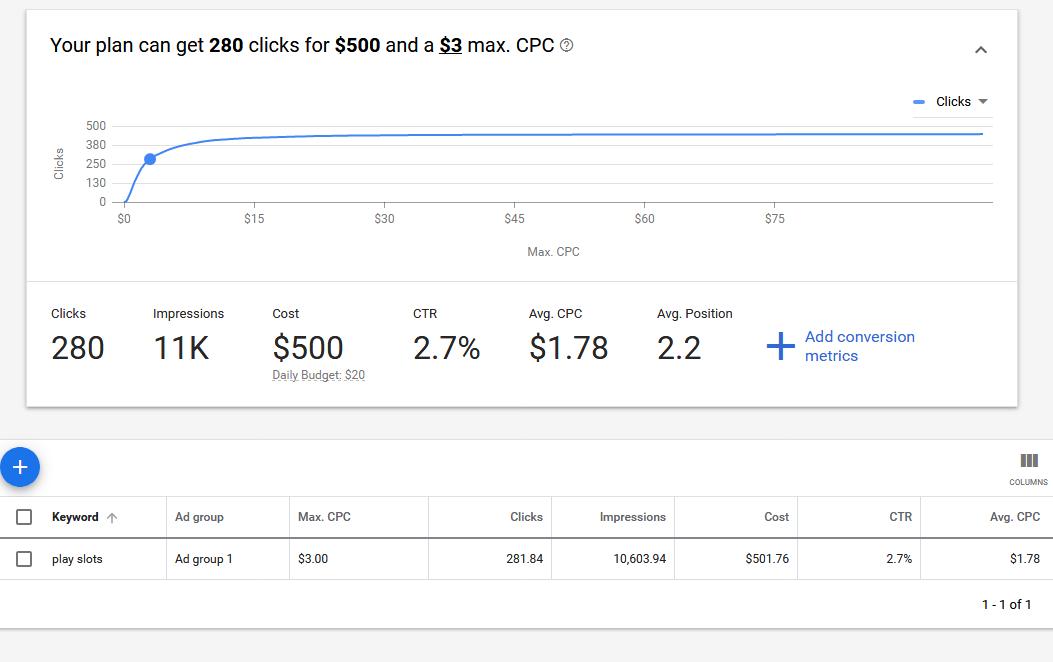 If you want to compete for the "casino" keyword, your budget needs to be even higher!
So how can an online gambling business promote their associated services, if they cannot target AdWords at all, or are subjected to high advertising costs just to beat the competition? The answer is surprisingly simple: own, operate and rank for generic domain names that incorporate these gambling-related keywords. The first step is to get the matching domain, which will propel the gambling business organically - as long as the content is related, and after adequate search engine optimization (SEO) is completed.
This is the primary reason that gambling domains with matching keywords achieve high sales prices from Sedo auctions, or via direct sales.
Here are some sales data:
At Sedo, there is an abundance of sales data, for example "gambling" domains fetched these top sales:
gambling.com 2,500,000 USD
gamble.net 46,125 USD
online-gambling.co.uk 44,657 USD
gamble.mobi 33,000 USD
gamblingonline.net 29,900 USD
Sedo sales of "slots" domains showcase the popularity of the keyword due to its generic qualities:
slots.eu 31,200 USD
slots.gr 11,374 USD
slots.nu 9,070 USD
slots.it 8,888 USD
videoslots.ec 7,500 USD
videoslots.casino 7,500 USD
slots.sg 7,500 USD
slots.hk 7,500 USD
euroslots.de 6,650 USD
slotsguru.com 6,602 USD
Sales of domains at Sedo that contained the "poker" keyword include a record-setting .ORG sale:
poker.org 1,000,000 USD
powerpoker.com 160,000 USD
pokern.de 136,030 USD
pokerbonus.com 85,000 USD
freepoker.org 50,000 USD
poker.org.uk 41,000 USD
pokerhouse.com 36,000 USD
poker.tw 30,916 USD
pokergratuit.fr 27,000 USD
guidepoker.fr 26,600 USD
pokerblog.com 25,000 USD
Lastly, domain sales at Sedo that incorporate the "casino" keyword include the following domain names:
casinos.org 400,000 USD
casino.ro 253,268 USD
casino.online 201,250 USD
onlinecasino.co.uk 165,000 USD
online-casino.de 144,900 USD
onlinecasinos.de 85,150 USD
online-casinos.de 84,500 USD
casinoguide.com 75,000 USD
onlinecasino.net 49,999 USD
casino.nu 47,000 USD
onlinecasino.eu 46,748 USD
vcasino.com 46,000 USD
casinoengine.com 40,000 USD
This is only a small sample of Sedo sales for just four major gambling-related keywords. The market's appetite for generic gambling domains is driven by the ability of these domains to rank well, be memorable and relevant to the activities they provide while avoiding SEA restrictions imposed by Google, and other major search engines.
Acquiring such gambling and online gaming domain names is easy via the Sedo marketplace. At Sedo there are thousands of gambling and online betting domains available for acquisition, ranging from a few hundred dollars upwards to seven figures. Domain pricing is related to the keyword itself, the domain extension (TLD), keyword length, and the scarcity of the domain.
In conclusion: Buy the right domain that will spearhead your venture or online gambling business and its brand, while becoming smart operator of your website and gaining the upper hand against the competition. At Sedo.com, we can help you achieve all of this and more!