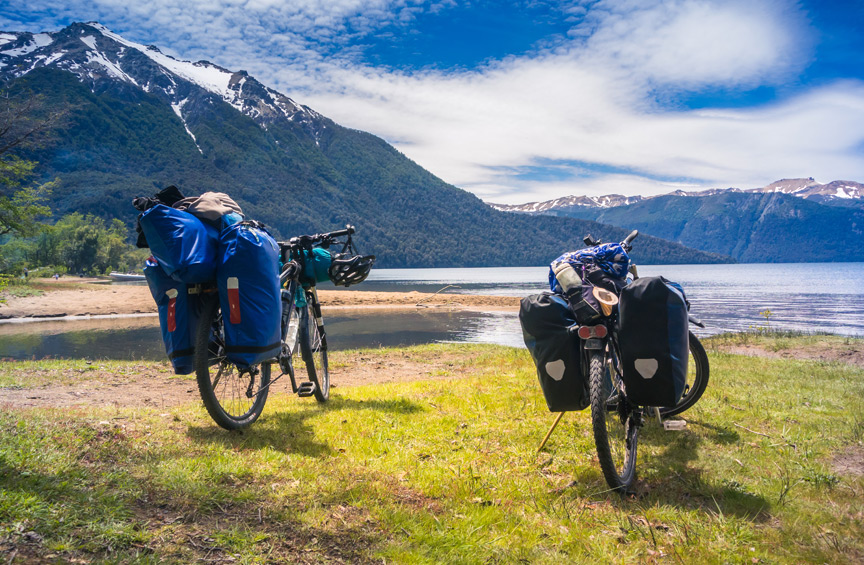 Green travel: Domain marketing for environmentally-conscious travel
Can the words "protecting the environment" and "large number of holiday trips" go together at all? Absolutely!

Green travel, as in sustainable travel, is a trend that has been increasing for years because environmental protection has been at the forefront in public perception.

Just take a look at the German market, where just under 16 million people aged 14 years and up among the German-speaking population said that they had a special interest in nature and environmental protection. With more than 70 million trips abroad in 2017, Germans are not only under the top 3 of the world's top exporters but are also the frontrunners when it comes to taking international vacations. They spent a total of around 84 million euros, and only China and the USA (both of which have much larger populations) traveled more. However, according to a 2018 survey by the German Federal Environmental Agency, one in five Germans considers threats to the environment and climate as the most important problems that the country currently faces.

For travel agents there are completely new marketing opportunities in this highly competitive tourism sector, making this new niche full of growth potential to capitalize on. With each trend, a new vocabulary and key concepts are evolving – which are in turn used in search engines. This is where domain marketing begins in adapting these words into domain names in order to precisely appeal to targeted groups. Domain marketing is more sustainable when compared to on-going search engine advertising.
Possibilities for future growth: not just a question of transportation but of location
The far stretching reach of such phrases are especially interesting for customers in the United States. Here, the possibilities for eco-friendly traveling are limiting. The rather timid offering of travel options are the result of a poor infrastructure system. In Europe, traveling by bus and train is made possible through the close proximity between cities and countries. However, in the US, there is a large discrepancy between traveling ecologically friendly and traveling effectively, because to the large distances that need to be covered to get from one major city or landmark, to the next. While options do exist, companies like Greyhound and Trailways cover mainly major cities and many users report habits of tardiness and a certain lack of costumer support. This makes using them to reach your vacation destination rather stressful. For the environmentally conscious, this leaves the option of picking out travel destinations that make a strong effort of limiting their carbon footprint, among other things. States like Alaska, Hawaii and California, have all made extensive efforts to make tourist attractions and cities more sustainable. Interest in "eco-lodges" especially in Alaska have been on the rise for the past couple of years. Places like California offer multiple National Parks to visit and explore, as well as having as many as 125,000 "green jobs". Hawaii even has a mantra for preserving the land: "malama aina". These are just a couple examples of keywords that will gain traction as the eco-travel industry continues to grow.
Ecotourism – which keywords are important for search engine optimization
Alternative travel, soft tourism, tourism with insight, sustainable tourism are all concepts, which are interwoven with green travel and ecotourism and have broadly the same meaning. They all point to holiday travels which are more ecologically and economically sustainable in the longer term, as well as ethically and socially just. Probably the most important element for environmentally-conscious tourists is their travel. "Climate neutral flight" and "CO2 compensation" would be the top priority for keyword optimization. This tourist group is most concerned with their environmental footprint, which is why "footprint flying" and "carbon neutral flights" can be important terms to attract potential customers. They typically research topics such as: "Is flying ecological?" in addition to looking for "green hotel accommodations" at their destinations. Within the "ecotourism" category, popular options include "eco-traveling", "sustainable tourism", "soft tourism", "ecological traveling", "sustainable traveling", and "sustainability in tourism". "Ecotourism examples" or "responsible travel" may also be helpful and searched topics for ecotourists. Environmentally-conscious travelers might be interested in the broader topics such as "sustainability" and an "ecological definition". Ultimately your choice of keywords to optimize will depend on the nature of your business and your priorities to ensure you reach your ideal target audiences. The potential return on the search terms you use can be found, for example, in the keyword planner of Google Ads.
Tips for your domain marketing around the topic of sustainable travel
The travel industry is one of the key growth markets in the economy that can be linked to sustainability and environmental awareness. Possible examples include domains such as sustainable.travel or environmentallyconscious.travel. There are also alternative domain endings which work internationally, such as .green, .travel, .eco or also .bio.

As well as using these phrases as domain names, it is also of course possible to get creative and coin your own one-word, self-explanatory domain names for eco-tourism. After all, at some stage all the current synonyms for sustainable travel will get used up and a number of start-ups have already begun using this strategy.
Start-ups showcasing domain marketing in ecotourism
A few years ago, using creative English language terms, the German-specific top-level domain, goodtravel.de launched one of the first European-wide booking platforms for sustainable travel destinations. A similar concept was used by bookitgreen.com to promote more than 1,000 green accommodations worldwide. These examples are positive in that they are common and easy to remember terms – even if bookitgreen.com is three words. Fairaway, a start-up from Krefeld, offers travel packages and self-organized individual tours on fairaway.de with local guides at the destination. The company also ensures that travelers and local guides use local transportation, do not make domestic flights, consume fairly-traded products and minimize waste. Fairaway offsets the CO2 emissions caused by arrival and departure.

Do you already have a domain in mind for your website on sustainable travel? First be sure to check out nine myths about domain names. After you have purchased your domain, we will also tell you how to establish your domain through domain-centric advertising.
Here is a selection of green travel domains that are currently for sale on Sedo's marketplace.